Where additional space is required quickly and efficiently Pickerings Principal range of modular buildings are compliant with building regulations and is specifically designed to provide enhanced fire protection.
The Pickerings Principal modular building range is building regulation compliant and fire certified and available to hire, buy or lease purchase. It offers exceptional build-quality, energy efficiency, fire safety, acoustic and thermal insulation and provides a comfortable, high-performance accommodation for a whole range of end uses, from classrooms to offices and healthcare facilities. Whatever your requirements, this modular building system will provide comfortable, spacious, energy-saving accommodation.
Our flexible design can be tailored to meet individual requirements which allows our building modules to be installed in both end-to-end or side-by-side directions as single or multi-storey solutions. Pickerings can create a finished building in terms of design, space efficiency, well-being as well as a cost-effective construction solution.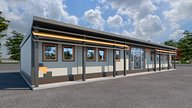 The range's flexibility in dimensions and materials to provide the perfect solution for your organisation. To enable your Pickerings Principal modular building to fit in with different surroundings and to present an aesthetically pleasing design style, both internally and externally, Pickerings can offer you a palette of different finished materials when taking the purchase option. This enables us to create a modular building that meets your personal specifications and preferences and blend in with your current environment.
Building Regulations Compliance
Principal modular buildings are compliant with all the necessary standards and regulations with the guarantee that your building has a design life of over 30 years.
Pickerings building regulation compliant modular buildings offer high quality materials and excellent thermal insulation. This is due to special panel joints to stop ingress and other environmental elements, high density rock wool core with windows and doors manufactured to the highest European quality standard. A rainwater channel incorporated in the roof frame, enables water drainage from the roof through PVC rainwater downpipes, located within every corner column.
Fire Certified
Pickerings Principal range of modular buildings is a high quality fire certified modular building system that is a versatile and environmentally friendly solution where the highest demands of fire resistance, sound insulation and thermal insulation are required.
With high fire ratings and load bearings to meet wind and even earthquake load capacities the Pickerings Principal fire rated modular building system offers you complete peace of mind regarding safety and security.
Providing a complete fire proof solution the façade wall panels of the Principal fire certified modular building from Pickerings are made of "A1" class non-combustible materials, are completely recyclable and environmentally friendly with EI Fire resistance class certified (EI30-EI180) - that's a fire resistance in the walls of up to three hours.
Thermal and sound insulation is provided by various fireproof panels of 60 to 240mm thickness, thermal conductivity values (U) as low as 0.17W/m2K can be guaranteed as well as an Rw sound reduction of 32dB.
Pickerings is a supplier to the Government's Crown Commercial Service Modular Buildings framework which allows public sector organisations to buy by further competition or direct award. Pickerings was successful in gaining a place as a supplier in the hire and purchase of modular buildings. Please see our Accreditations page for more details of the Crown Commercial Service Modular Buildings Framework and other accreditations.
Please visit our Brochures page to view or download our Principal Modular Buildings brochure. A product information sheet showing brief features and benefits of the Pickerings Principal modular building is available to view or download at the foot of this page.