Container Accessories
Container Racking
To help you maximise the practical storage space inside your Pickerings container store we can provide strong and sturdy container racking so you can safely stack items from floor to ceiling.
It also helps you keep some of your items at a manageable height. Choose whether to have it fitted along one side of your container or two sides. When you're storing smaller items it really does increase your storage capacity and makes it easier for you to find your items.
Pickerings container racking is also ideal for storing longer items such as pipes, timber and electrical conduit.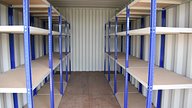 The benefits of using container racking inside your Pickerings steel container store includes:
Saving on floor space while offering more storage - so less floor space is consumed and more items can be stored.
Better organisation will help you to retrieve items so much easier with the extra space you'll generate.
May reduce accidents because the container racking helps you organise and store things in a more efficient manner.
Makes storing of especially long items much easier to handle and store safely.
Container Lighting
Make the space in your Pickerings steel container store much lighter and safer with our choice of lights. These are particularly useful for night time working or during the winter months when daylight hours get much shorter. Choose from a rechargeable light or a strip light for your container store.