Hire water and fuel bowsers for your site
Providing the water required for toilets, washrooms and showers on construction sites with no mains connections can be a challenge. As part of the Pickerings Essentials Range, you can hire high-capacity water bowsers to supply all the non-drinking water your site needs.
Similarly, remote or greenfield sites often lack mains power, which means you need to hire generators to power your buildings. To supply the fuel required for your generators, Pickerings also offers a 950 litre U.N. approved bunded diesel fuel cube.
Watermatic Water Bowser: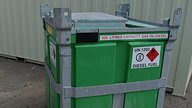 Watermatics feature (non-portable) 1000 litre water tank encased within a secure steel shell. These are designed to provide a temporary water supply via a boostamatic on demand electric pump. The pipe fittings are protected by a thermostatically controlled electric tubular heater. These units can be connected to any mains toilet for sites where no mains water is available.
Fuel Cube Bowser:
The Pickerings Fuel Cube is 950 litres UN Approved Bunded Diesel Polycube with a specification as follows:
Secure Lockable steel lid, gas strut assisted;
Corrosion free inner Polyethylene tank;Corrosion free outer Polyethylene bund;
Galvanised 5mm steel lightweight frame;Moulded-in trigger nozzle storage;
Fork lift access from all sides; Four corner lifting eyes;
Standard two generator supply connections can run with the lid locked;
Stackable 2 high full or 3 high empty;
DIMENSIONS (approximate) Width: 1213mm, Length: 1213mm, Height: 1410mm overall.
Unladen weight: 290kg. Laden weight: 1100kg