Staircases, Steps & Ramps
Steel Staircases
Steel staircases are provided to gain access to upper floors of your Pickerings portable cabins and modular buildings.
A standard steel staircase consists of 13 treads and a 15 tread steel staircase is also available. The chequer plate staircase landing and steps are finished in black and come with demountable handrails to enable easy transportation to and from site. Pickerings steel staircases are universal to enable them to be fitted either left handed or right handed to meet specific site requirements. Stairs or steps with an outward opening door must be fitted with a landing.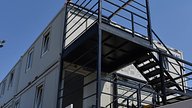 Ramps and Access Steps
To conform to the Equality Act 2010 and Part M of the Building Regulations it is a requirement that you provide easy access to all new and existing buildings that are larger than 30m2 and will be sited for more than 28 days. This applies to modular buildings no matter whether they are permanent or temporary.
For Pickerings modular buildings we can provide modular ramps and steps for easy access to your building. These can easily be installed to suit your specific site requirements.
Should you require a more permanent solution we can construct concrete or wooden ramps or access steps that provide fully compliant access to your building.
Steps to Portable Toilet Block with Effluent Tank
When you hire a Pickerings portable toilet and shower block with no mains services we can provide an effluent holding tank that can be positioned underneath your building. This may result in your toilet and shower block being raised from the ground. To help you gain easier entry and exit we can provide a set of steel steps for toilet and shower blocks with inward opening external doors.