Swindon
The Pickerings depot in Wootton Bassett near Swindon was purpose built and recently opened in 2021. With a site footprint of 10 acres it is, probably, one of the largest depots in the modular buildings and portable accommodation industry.
Covering the South West of England, the Pickerings Swindon hire depot provides a wide range of portable buildings and modular building systems to Avon, Gloucestershire, Hereford and Worcestershire, Wiltshire, Oxfordshire, also referred to as Oxon, Somerset, Hampshire as well as South Wales.
Principal towns and cities that we regularly deliver portable cabins includes Bristol, Cheltenham, Gloucester, Bath, Chippenham, Cirencester, Cardiff, Newport, Neath, Wootton Bassett and Swindon.
The Pickerings Swindon hire depot provides a full range of portable and modular building solutions to hire, buy or lease purchase. Our range in the South West of England includes steel anti-vandal offices; steel anti-vandal canteens; Principal modular buildings; Prima modular buildings; steel anti-vandal portable toilets; secure steel container stores; mobile welfare for workers on the move and static welfare facilities.
Pickerings Swindon hire depot also supplies generators to hire from 6kVA to 120kVA standalone and welfare pod units to power your portable buildings and modular buildings; furniture; fuel bowsers; water bowsers; effluent holding tanks for your portable toilet block; waste tank emptying when you have no main services on site; wi-fi telecommunications; data cabling; fire safety technology; building foundations; staircases, steps & ramps; site connections; racking for steel storage containers.
Whatever you need and whichever market sector you work - education, government, industry & commerce, health and construction - the Pickerings Swindon team has years of knowledge and experience to provide you with the most modern building solutions with excellent customer service to match.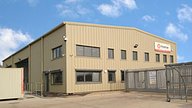 Swindon
Pickerings
Whitehill Lane
Royal Wootton Bassett
Swindon
Wiltshire (SAT NAV: SN4 7SB)
SN4 7GH
UK