Stoke-on-Trent
The Pickerings Stoke hire depot is located at Longton right in the heart of The Potteries in North Staffordshire serving customers with their portable buildings and modular buildings across the North Midlands and counties of Cheshire, Derbyshire, Staffordshire and Shropshire – also referred to as Salop.
High quality portable buildings and modular buildings are prepared and serviced at the Pickerings Stoke hire depot whether you require an anti-vandal portable office in Chester; an anti-vandal portable canteen in Telford; an anti-vandal portable toilet in Stafford; modular buildings in Stoke on Trent or a mobile welfare in Nantwich.
Also available is a wide range of generators from 6kva to 120kva standalone and welfare pod units and the full range of items in our Pickerings+ range that includes: wi-fi telecommunications; data cabling; furniture; fire safety technology; site connections; building foundations; staircases, steps & ramps; water bowsers; fuel bowsers;effluent tanks; waste water emptying; container racking for steel storage containers.
Of course, we'll also complete, on request, any maintenance and repairs to your Pickerings portable buildings and modular buildings no matter whether your site is in Stoke on Trent, Crewe, Macclesfield, Wrexham, Stafford or surrounding areas.
Portable cabins and modular buildings from Pickerings Stoke hire depot are available to hire, buy or lease purchase.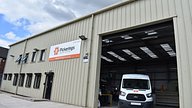 Stoke-on-Trent
Pickerings
Lower Spring Road
Longton
Stoke on Trent
Staffordshire
ST3 1RA
UK