Northampton
The newly constructed Pickerings Northampton hire depot is on a 4 acre site conveniently located in the heart of Northamptonshire with fast road networks to allow us to deliver to Cambridgeshire, Essex, Hertfordshire, Buckinghamshire, Warwickshire, Northamptonshire, Bedfordshire, Norfolk and Suffolk.
The towns and cities that we deliver and install Pickerings portable and modular buildings includes Northampton, Kettering, Wellingborough, Rugby, Bedford, Stevenage, Peterborough, Ely, Cambridge, Kings Lynn and Bury St Edmunds.
Our fleet of Pickerings lorries all fitted with crane off-loading facility will deliver and install our portable buildings and modular buildings directly to your sites throughout the East Midlands and East Anglia no matter whether you need anti-vandal portable cabins; anti-vandal portable canteens; anti-vandal portable toilets; secure steel storage containers; Principal modular buildings; Prima modular buildings or static and mobile welfare solutions. Options available to hire, buy or lease purchase.
Also available is a wide range of generators from 6kva to 120kva standalone and welfare pod units as well as the full range from Pickerings+ that includes: furniture; site connections; fire safety technology; wi-fi telecommunications; data cabling; building foundations; staircases, steps & ramps; water bowsers; fuel bowsers; effluent tanks; waste water emptying; container racking for steel storage containers.
With the largest range of portable and modular buildings anywhere in Northamptonshire the Pickerings Northampton hire depot is understandably the obvious local supplier of choice in the area.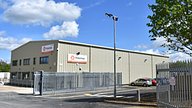 Northampton
Pickerings
Lower Farm Road
Moulton Park
Northampton
Northamptonshire
NN3 6XF
UK