Anti-vandal Mobiles
Pickerings offer a choice of mobiles designed to be easily and quickly installed ready to provide a comfortable, secure and efficient setting whether for sanitary facilities, eating, office work or a combination of all three in a statutory welfare solution.
The solutions we provide include:
Ecosmart 20 "Air" Welfare Mobile: This newly introduced 20' welfare mobile has hidden twin hydraulic axles & wheels for security purposes. Contains a large canteen with table & bench seating for 10 people. Has a separate office. The WC has a re-circulating flush tank toilet with 80 litre capacity & a sink to wash up to a forearm. Drying room comes with coat hooks and blown air heating outlet. The power room has a diesel Kubota engine generator & high cycle AGM battery. The perfect choice to provide mobile welfare facilities for a larger workforce. Size: 20' x 8' (6m x 2.4m).
Eco Welfare Mobile: The Pickerings Eco Welfare Mobile is a modern concept in 12 volt technology delivering cost effective and environmentally efficient, robust and easy to use ground-lowering, anti-vandal, site accommodation.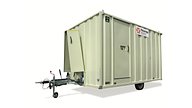 While providing a green environmental solution it gives users energy savings by way of reduced fuel usage, fewer breakdowns and massively reduced noise pollution. Sizes: 12' x 8' (3.8m x 2.4m) or 16' x 8' (5m x 2.4m).
Standard Welfare Mobile: The Pickerings Standard Welfare Mobile is suitable for accommodating 6 people providing a pleasant and safe working environment ideal for most types of contractor. Easily towed, it is a one person operation to secure and manoeuvre on site in less than 3 minutes. It has many safety features that make this mobile a highly secure choice for site workers. Size: 12' x 8' (3.8m x 2.4m).
Office/Canteen Mobile: This fixed axle mobile has anti-vandal protection on the outside, manufactured from 1.6mm steel with corrugated side walls and a high security locking system as standard with high security window shutters. Internally the Pickerings mobile is fitted with laminate chipboard and the floor is covered in heavy duty vinyl with a plastic skirting board. There is a heater and ample room for a large workstation. Size: 12' x 8' (3.8m x 2.4m).
Mobile Steel Store: Each of these mobile secure stores has double doors, conveniently fitted with door retainers, opening outwards to allow the storage of large items of plant and equipment. Each door is internally hinged for added security and fitted with an integral 5 lever lock with additional provision for a padlock. Easily towed, one person operation secured and manoeuvred on site. The Pickerings mobile steel store is perfect when you need to move around and keep your equipment secure.
All sizes are nominal and products are subject to availability.
An information sheet comparing the features of Pickerings Eco Welfare Mobiles can be viewed and downloaded at the foot of this page.