Wi-Fi Telecommunications
Pickerings High Speed 4G internet solution with the fastest speeds on the market.
Instant wi-fi telecommunications are now available with your Pickerings modular buildings and portable cabins.
No longer will you have to wait months and months for your network provider to install broadband as the Pickerings 4G internet solution can be installed the first day your portable and modular buildings arrive on site. This will ensure your people have a ready to use solution, avoiding downtime whilst increasing efficiencies and productivity.
We provide a wi-fi telecommunications service nationwide no matter where you are. And when several networks are available in your area we'll connect you to the one with the best service.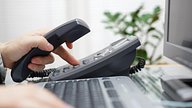 The Pickerings 4G telecommunications service can be provided to a single portable cabin, a cabin complex or a modular building so it's suitable for sites of all sizes for your convenience no matter how many people are working on site.
A range of data packages are available to meet your specific requirements so you pay for what you need and help to control your costs. A remote management portal with a cap on data use will control your spending and help with your financial planning.
Wi-fi telecommunications can be ordered at the same time as your Pickerings modular buildings and portable cabins to save you the hassle of finding and managing multiple suppliers.
To discuss your wi-fi requirements and find out more information please Contact Us.
A data sheet on Pickerings wi-fi telecommunications is available to view and download below.