Site Connections
When your Pickerings portable cabin or modular building has been delivered and installed it's ready for immediate use once you've connected to mains services. Unless you're using a Pickerings generator you'll need to connect to mains electrics and, if relevant, water supply and drainage as well.
Ask us about our Site Connect services where we can arrange to make all the necessary connections to your mains services.
Site connect – plug-and-play service pods for hire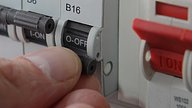 If you need to work on a site with no mains power, water or services, you can hire an entirely self-contained welfare service pod from Pickerings. It will provide constant, reliable water and electrical supplies to your buildings and facilities.
The welfare service pod features a 1000-litre water tank with a mains-pressure water pump, a super-silenced generator, and a 1000-litre bunded fuel tank – all housed in a secure, anti-vandal steel container. A range of generator sizes is available to meet your power requirements.
A simple-to-use distribution board and water outlets make this service pod quick and easy to connect – giving you a user-friendly, plug-and-play solution for all your power and water requirements.
Fire and Burglary Protection
Ask about Pickerings range of solutions to help you fulfil your site safety strategy including fire alarms, burglar alarms and fire extinguishers.