Foundations
Foundations for Pickerings Modular Buildings & Portable Cabins
Before your modular building and portable cabins are delivered to site you'll need to make sure you have well consolidated and level ground to install them. If you're considering housing your building on a tarmac base it won't be sufficient to place your building directly onto it as it may not be strong enough and could cause damage leaving you with expensive repairs to undertake.
Pickerings can complete your site preparation, foundations and other external works to overcome unsuitable ground especially on a sloping or unlevel site.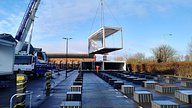 As part of our comprehensive Pickerings+ solutions we can provide a turnkey package to save you the cost, time and hassle of managing multiple suppliers. We offer a choice of having either concrete foundations or temporary foundation pads to house your modular building and portable cabins.
Concrete Foundations
We can provide concrete base, strip pads or foundation pads to house your buildings. These can be installed on site whilst your modular building and portable cabins are being prepared by Pickerings so you won't lose any time on your project.
Temporary Foundation Pads
Temporary foundation pads are a quick, simple and cost-effective system for modular buildings and portable cabins and generally used on sites with well consolidated ground.
Pickerings temporary foundation pads:
cost-effective alternative to traditional concrete bases
easily & quickly positioned on site especially important for a short lead time
meet high loading capabilities
achieve all base heights
extremely durable
easy to remove when no longer needed - avoids waste, skips & landfill
no ground or remedial works required in most instances - particularly important on car parks & school playgrounds leaving ground undamaged & immediately returned to its original use
manufactured from 100% recycled material
Please talk to us at the early stages of your project for the best advice in meeting your needs.
A data sheet on permanent and temporary foundations for your Pickerings modular buildings and portable cabins can be viewed and downloaded below.