Fire Safety Technology
Site Monitoring 24/7 - a unique way to protect your site and its occupants in an emergency
Whenever you hire a portable accommodation complex from Pickerings we can also provide your fire alert system to help protect your people and property. Suitable for all sectors and particularly for a greenfield construction site with no existing fire alert system.
We've teamed up with Ramtech Electronics to bring you their enhanced WES systems that are EN54 fully accredited wireless fire alert system. It is easy to install in your portable and modular buildings with no specialist tools, no training and no equipment required.
Any number of units can be installed, in any combination, including base station, call point, heat detector, smoke detector, link and interface allowing you to choose the right solution to meet your site requirements.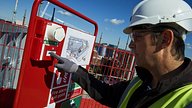 As your circumstances change on site and to give you added flexibility more units can be added, removed or repositioned. This is particularly useful when you are adding or reducing the number of Pickerings portable and modular buildings in your site complex.
Real time alerts are sent directly to any mobile device and pin-points the alert location on site to allow you to respond quickly to an incident saving your property and people.The system works on GSM and 4G with REACT cloud based platform to give you the best connectivity.
The system has been developed in conjunction with some of the UK's leading contractors with over 50,000 units installed.
Connecting wirelessly to existing systems we'll arrange to seamlessly integrate with other systems on site or operate on a standalone basis. The fire alert units are hard wearing and built to last. They are weatherproof and come with a service-free battery life of three years under normal conditions. The fire alert system carries the highest level of certification. As well as being fully certified to EN54 it helps your construction site fully comply with BS5839 and JCoP.
Once a project has been completed the fire alert units are simply removed and installed in the Pickerings modular and portable buildings on your next project. No reprogramming, no reconfiguration and no rewiring is required.
A data sheet on using Pickerings Fire Safety Technology can be viewed and downloaded below.
We can also provide you with fire extinguishers to help fight a small fire and stop it becomong a major disaster. Please ask a Pickering Product Specialist for more information.