Fire Extinguishers
Fire extinguishers are vital to protect people and property. Let us help with the fire safety in your Pickerings modular buildings and portable accommodation. Our range of fire extinguishers will help you fight a small fire and stop it becoming a major disaster.
Fire extinguishers are designed to tackle specific types of fire and be the first line of defence in the event of accidental fire. To help provide you with the right ones our fire safety solutions include water, foam, powder and Co2 fire extinguishers for your peace of mind and to restrict a fire if the emergency services are needed.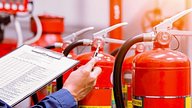 By having the ability to fight fires, fire extinguishers can restrict the amount of pollution caused by smoke and burning waste and protecting inhalation by your employees.
Pickerings can also provide a trolley system to allow fire extinguishers to easily be located closely to the scene of the fire.
A data sheet on using Pickerings fire extinguishers in your modular buildings and portable cabins can be viewed and downloaded below.
For a full fire alert system please call and speak to a Pickerings Product Specialist about our Fire Safety Technology which is ideal for a modular building or portable accommodation complex.