Data Cabling
Data cabling is now available with your Pickerings modular buildings and portable cabins.
Pickerings can now provide every type of business - no matter whether you're an office, school, health centre or construction site – with data cabling to connect to ports, printers, phones and other equipment to give complete coverage.
Structured cabling comes with very high bandwidth to ensure the system can support future applications without interruption and allows issues to easily be identified and resolved to reduce downtime and increase workers productivity.
Easy to manage and keeping your cabling under control it allows you to identify which cable is connected to which location and hides cables to create a tidy and safe working environment.
Pickerings data cabling can be installed as soon as your building installation has been completed to ensure your people have a ready to use solution.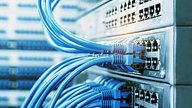 The Pickerings data cabling service can be provided to sites nationwide for a single portable cabin, a cabin complex or a modular building so it's suitable for sites of all sizes no matter how many people are working on site.
Data cabling can be ordered at the same time as your Pickerings modular buildings and portable cabins to save you the hassle of finding and managing multiple suppliers.
To discuss your data cabling requirements and find out more information please Contact Us.
A product information sheet on Pickerings Data Cabling Solutions is available to view and download below.