Climate Control
With our air conditioning system we'll help you maintain a consistent temperature for a pleasant working environment throughout the year. It may improve workforce productivity and overcome employee dissatisfation of having a low or constantly changing temperature.
Our climate control system includes installation in your Pickerings modular building and portable accommodation with full commissioning so it's ready to use as soon as we've handed over your building. We'll decommission and remove the climate control once your project is finished. Regular servicing of your air conditioning units can be arranged whenever you need it.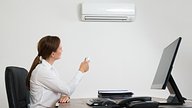 Benfits of air conditioning in your Pickerings portable accommodation and modular buildings include:
the ability to control the temperature to avoid fluctuations
maintain comfort levels for a better working environment
improve energy efficiency by minimising energy use
control energy costs to help your financial budget
reduce humidity and employee fatigue
improve air quality for your employees
Please call and speak with one of our product specialists for the best advice on climate control in your Pickerings modular building and portable accommodation.
A data sheet about using Pickerings climate control in your modular buildings and portable cabins can be viewed and downloaded below.